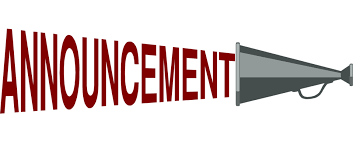 1/14/21 Announcements
Jen Jockisch
Thursday, January 14, 2021
Thursday 1/14/21 Announcements
Today's Lunch: Italian Meatball Sub
Detention tonight with Mr. Roberts
Tomorrow's Spirit Day is Battleship - dress up in your class color: Freshmen yellow, Sophomores red, Juniors green, and Seniors blue.
If you took a chromebook home, please return it to the library this morning.
Yesterday's Penny Wars Results: 4th place: Freshmen $ - 17.85 3rd place: Juniors $ - 14.29 2nd place: Sophomores $ - 12.67 1st place: Seniors $ + 12.87
Are you ready to play Guess Who? Your teachers have submitted childhood pictures and now you need to help identify them. Scan the QR Code on the Student Council bulletin board or library door to make your guess. The student who gets the most correct will win a prize!