The 2022 Midwest Central High School Graduation will be live streamed via our YouTube channel. The graduation will start at 2:00 PM on May 22, 2022. To view the ceremony, please go to this link:
https://youtu.be/EBFr6rGEMP4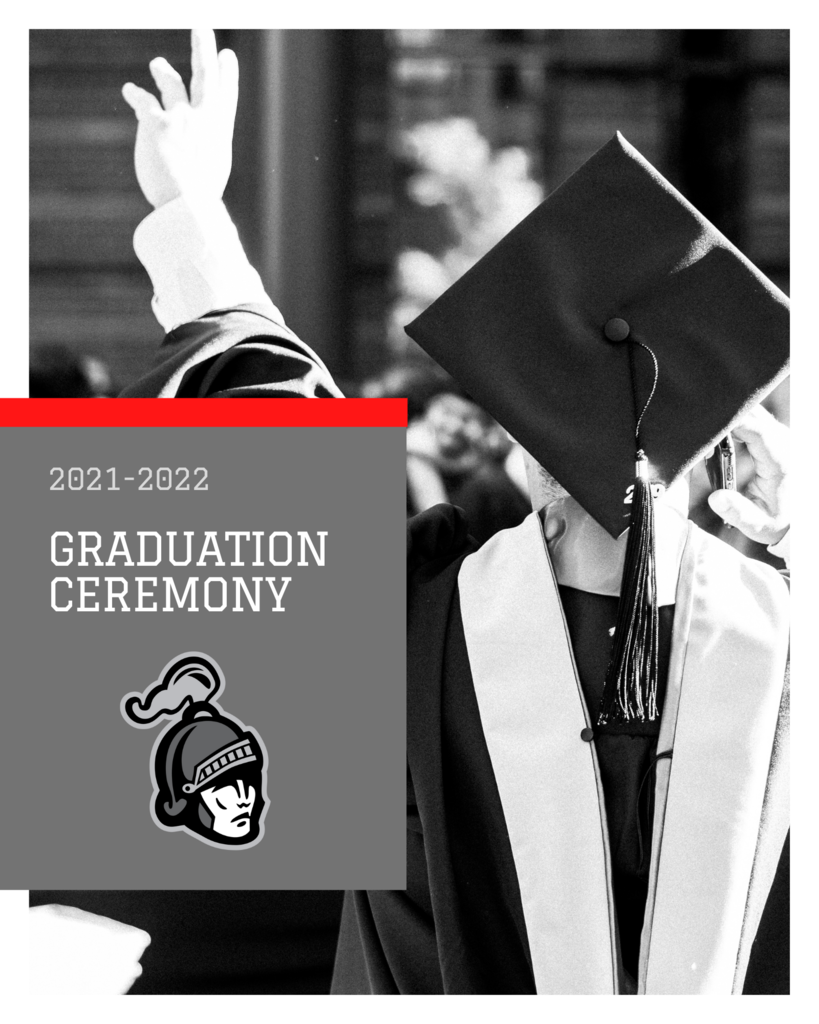 Matthew and the Raiders travel to compete today at the IHSA Boys Sectionals in Tremont. Meet starts at 4:00. Good Luck Raiders!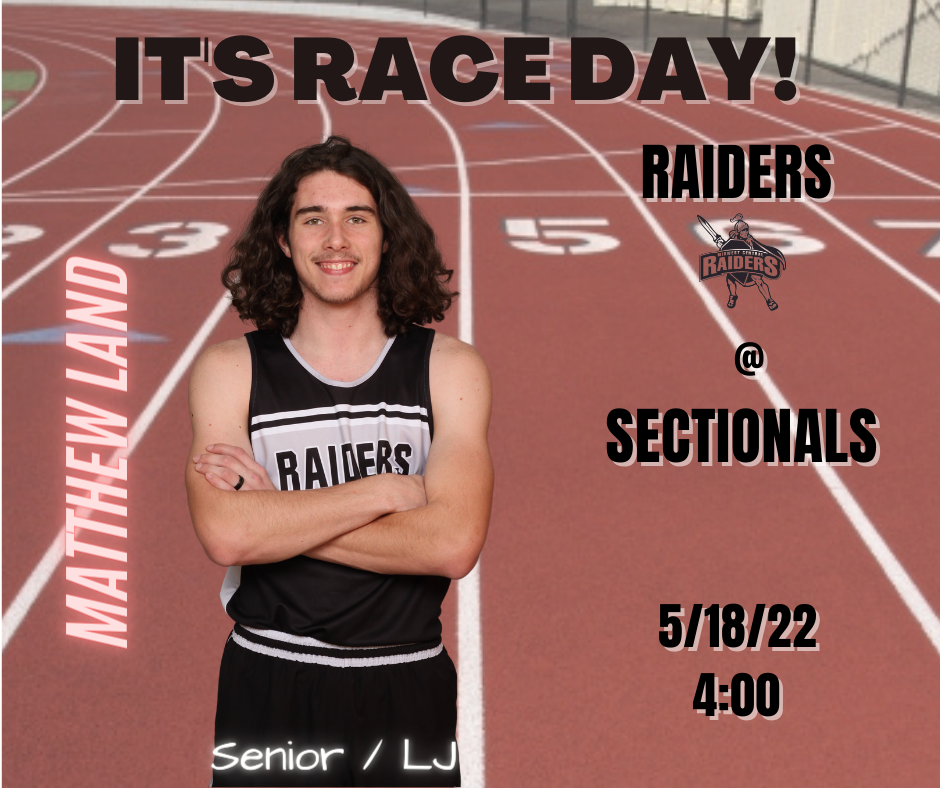 Saturday was a big day for the Lady Raiders. They combined their Ulcerative Colitis game and senior day into one. Both Havana and Midwest Central have personal ties to ulcerative colitis and wanted to honor past and present friends and family members who unfortunately know the affects of UC. Cade Duncan, a MCHS senior, threw the first pitch to his cousin and player, Karsyn Skaggs. The Lady Raiders also celebrated their five seniors: Jenna Bowman, Leah Boehm, Olivia Lewis, Kloe Norris, and Jaden Watts. Congratulations, ladies!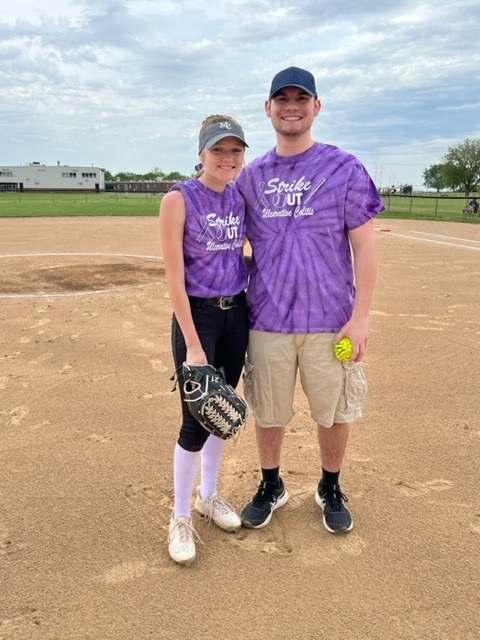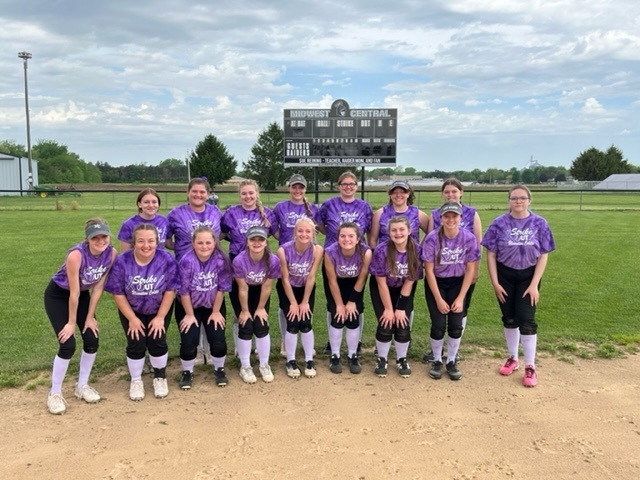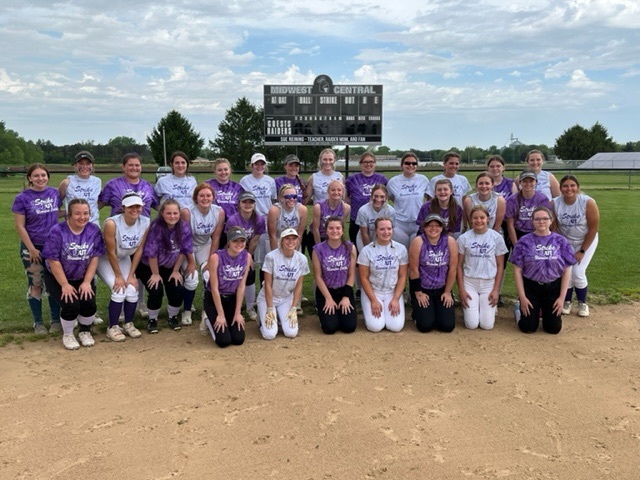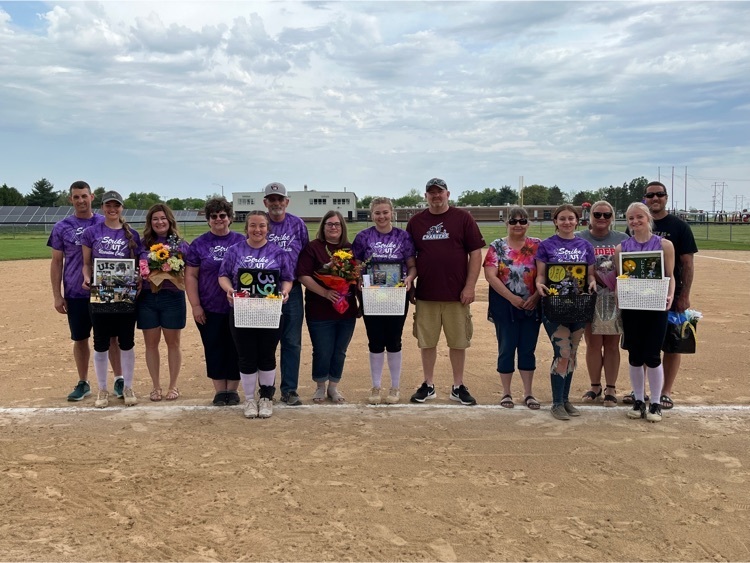 Come cheer Leah, Kloe, Jenna, Jaden, and Olivia to a victory today against Havana. This will be their Senior Day and Ulcerative Colitis game. The first pitch will be at 10:00. Senior recognition will start at 9:45. Good Luck Ladies!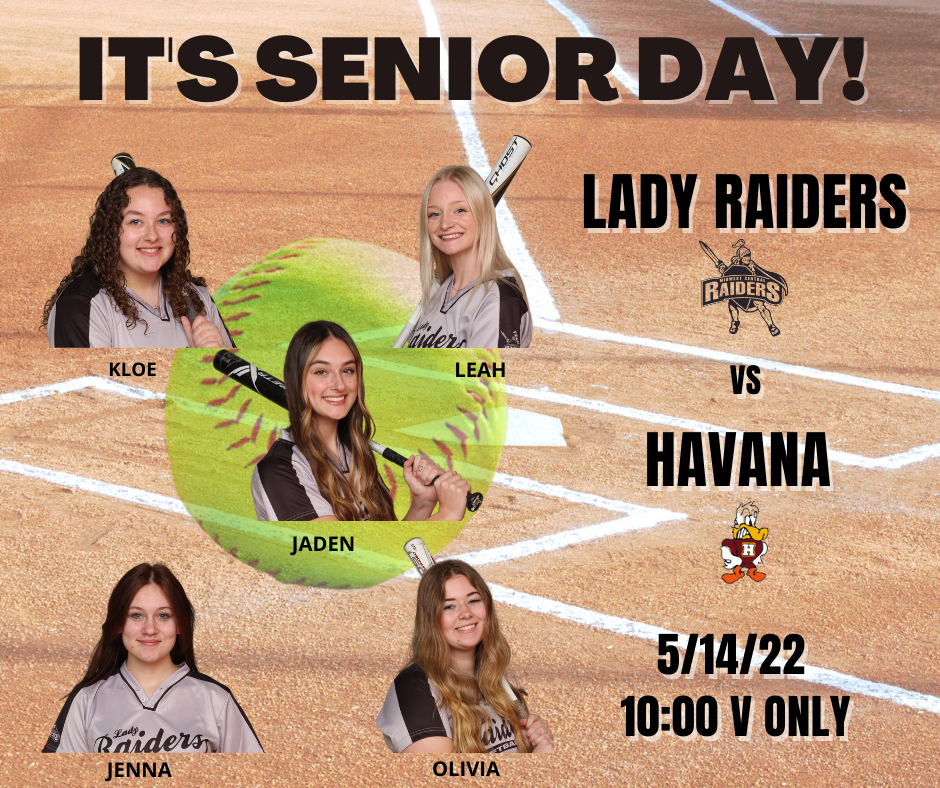 Eli and the Raiders travel to Dunlap today to play a V game. The game starts at 10:00. Good Luck Raiders!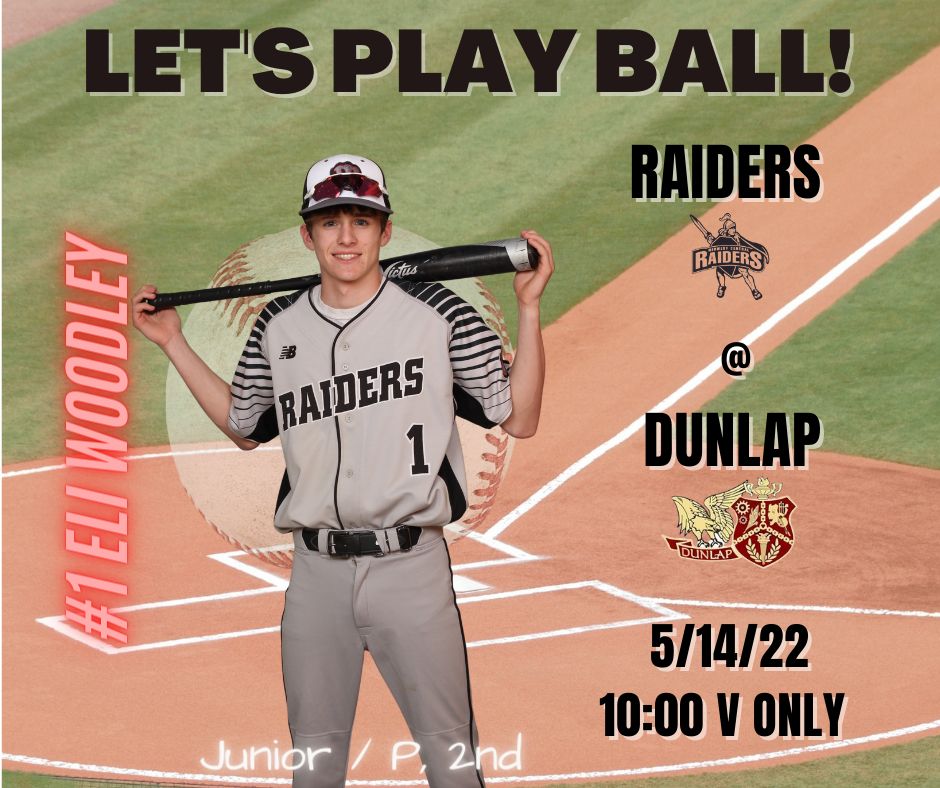 The Lady Raiders defeated Midland 17-0 on Friday as two pitchers combined to throw a shutout. The Lady Raiders secured the victory with nine runs in the fourth inning. The big inning was thanks to singles by Grace Smith and Alexis Highland, groundouts by Jaden Watts and Carley Rose, an error on a ball put in play by Karsyn Skaggs and Isabella Passmore, and a walk by Taylor Keihn. Olivia Lewis and Isabella Passmore each collected three hits to lead the Lady Raiders. Isabella Passmore earned the win for the Raiders. The hurler went four innings, allowing zero runs on two hits, striking out 12 and walking zero. Jaden Watts threw one inning in relief out of the bullpen. Watts recorded the last three outs to earn the save.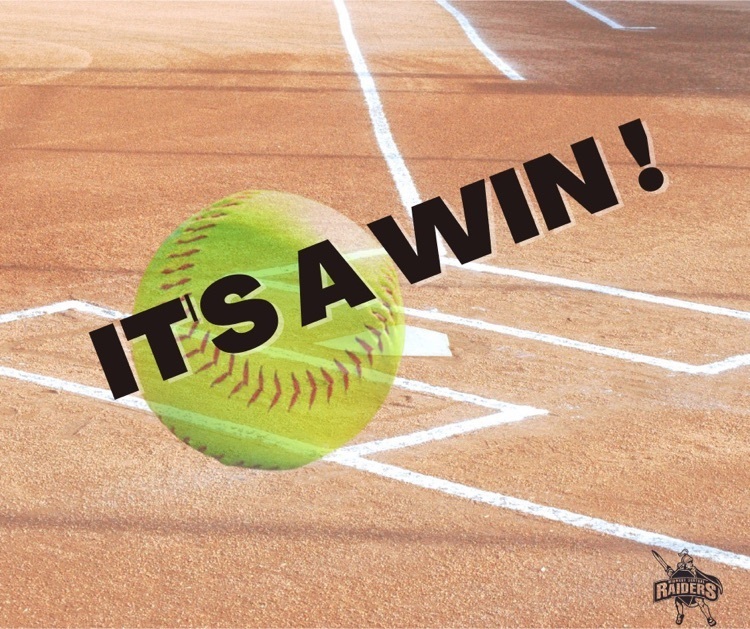 Five students from the MCHS graduating class of 2022 have been designated Illinois State Scholars for their academic excellence. The Illinois Student Assistance Commission, the state's college access and financial aid agency, presents this important recognition of academic achievement to exceptional Illinois high school students annually. Illinois State Scholars represent the top 10 percent of high school seniors from 765 high schools across the state. Earning this distinction means the student has scored in the 95th percentile or above on the ACT or SAT, and ranks in the top half of the class. This year, more than 17,340 honorees join the other outstanding students who have been honored since the designation was first introduced in 1958. We are extremely proud of our Raiders for earning this recognition. Midwest Central High School recognizes the following five students: Shay-Le Roemer, Alexa Kerley, Tori Taylor, Jaden Watts, and Abigail Larsen.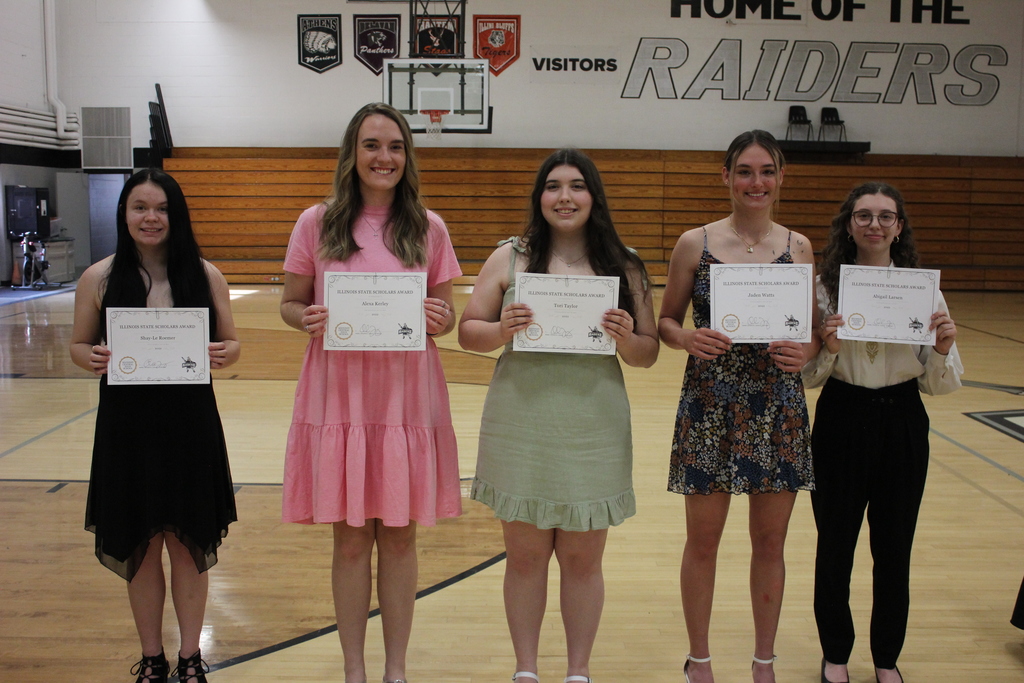 Jaden and the Lady Raiders travel to Midland today to compete in a V game. The first pitch is at 4:30. Good Luck Ladies!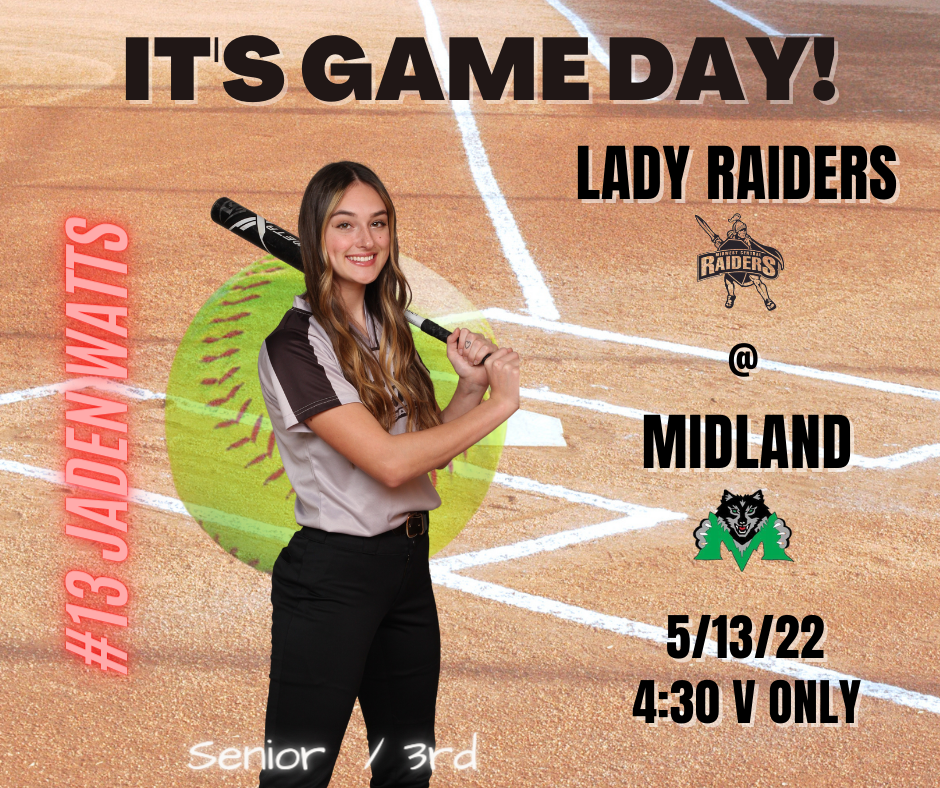 Midwest Central HS would like to wish Kally Richardson and Addison Friedrich Good Luck this weekend as they compete at the IESA State Track and Field Meet. Kally is competing in the shot put and discus. Addison is competing in the long jump.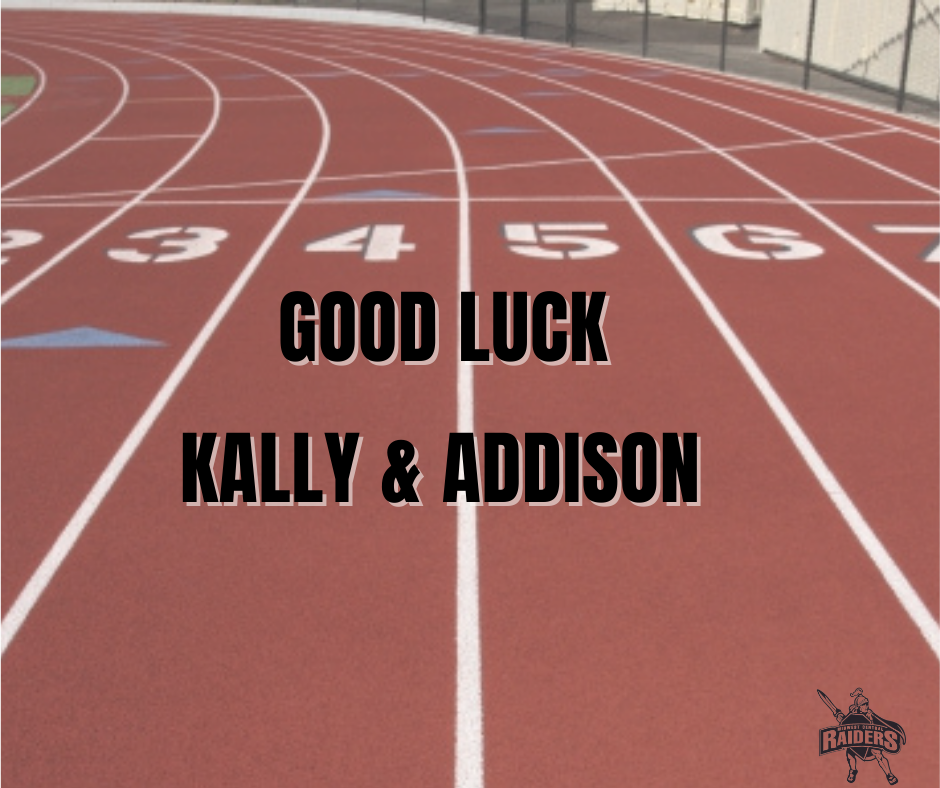 MCHS held the Award and Scholarship Ceremony last night on May 11, 2022... and over $30,000 in scholarship funds were awarded!!! We are so proud of our Raiders and look forward to seeing their personal and academic goals unfold. Please see the list below for award and scholarship recipients: AWARDS- Illinois State Scholars- Jaden Watts, Tori Taylor, Alexa Kerley, Shay-Le Roemer, and Abigail Larsen Social Science- Kayla Julius Math- Carly DeSutter, Courtney Maslana, Kayla Julius, and Jaden Watts Science- Alaina Askins, Joseph Farnam, Ava Rademacker, Kayla Julius, and Shay-Le Roemer President of the Year Award: Iree Simer, History League President Recognition of 2022-2023 Student Council President: Kayla Julius Recognition of 2022-2023 Hopewell 1st Vice President: Cora DeSutter Recognition of 2022-2023 Hopewell President: Amelia Martin Scholastic Bowl- Delaney Egan, Maya Farnam, Abigail Larsen, Shay-Le Roemer Theater- Alexa Kerley, Emery Baker, Aiden Askins, and Michael Bahney DAR Good Citizen- Alexa Kerley Student Council- Remi Kraft, Kayla Julius, Cora DeSutter, Amelia Martin, and Iree Simer SCHOLARSHIPS- Rootin' for a Raider- Alexa Kerley Mason County Pork Producer- Kami Davis, Kyle Uselton, and Aiden Askins J.D. Proehl Family Farm- Delaney Egan Subway- Connor Allen and Thorsten Carpenter OMNI Energy- Kassidy Skaggs VFW- Kylie Klaasen Lt. Jon Ladda- Lannah Klaasen Gregory M. Williams- Kami Davis Phyllis Martin Memorial Nursing- Kylie Klaasen MTI Welding- Ethan Klaasen MTI Medical- Samantha Durr Craig Gathmann - Kylie Klaasen, Kevin Chaney, Aiden Askins, and Michael Bahney Rotary Club- Devin Kernstein, Hailey Green, Alexa Kerley, Kylie Klaasen, Karter Richardson, Cydney Jochums, Kevin Chaney, Kyle Uselton, and Aiden Askins. Larry DeSutter- Kami Davis (Animal Science AG), Graden Becker, and Iree Simer Ruby K. Worner- Kloe Norris, Lannah Klaasen, Kami Davis, Kylie Klaasen, and Samantha Durr Forest City Alumni- Alexa Kerley, Tori Taylor, and Kylie Klaasen We are extremely grateful for the families, organizations, and businesses that sponsor scholarships which support our students and their future goals. Congrats Raiders on these amazing achievements from your hard work in and out of the classroom!!! #MCRaiderNation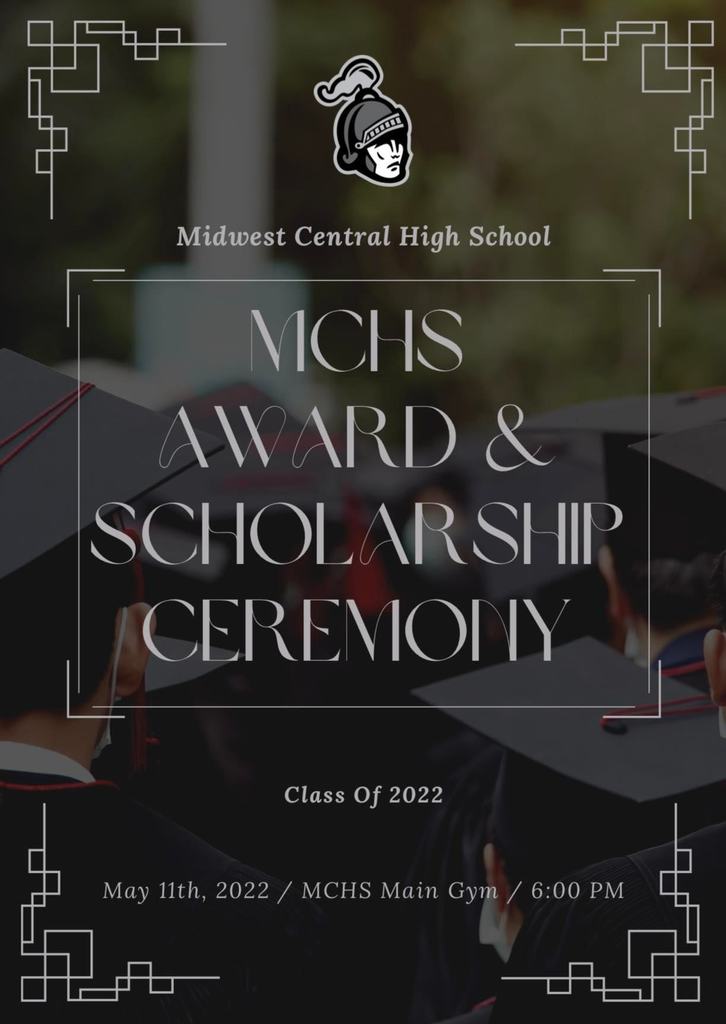 The Lady Raiders stole the lead late in the game in a 9-4 victory over Beardstown on Tuesday. Isabella Passmore got the win, allowing six hits and four runs over seven innings of work, striking out eight. The game was tied at four with the Raiders batting in the top of the seventh when Leah Boehm singled on a 0-1 count, scoring one run. The Lady Raiders tallied nine total hits in the game. Jaden Watts, Leah Boehm, and Karsyn Skaggs all had multiple hits. Watts led with three hits in five at bats. The Raiders play again at home Thursday with a JV only game starting at 4:30.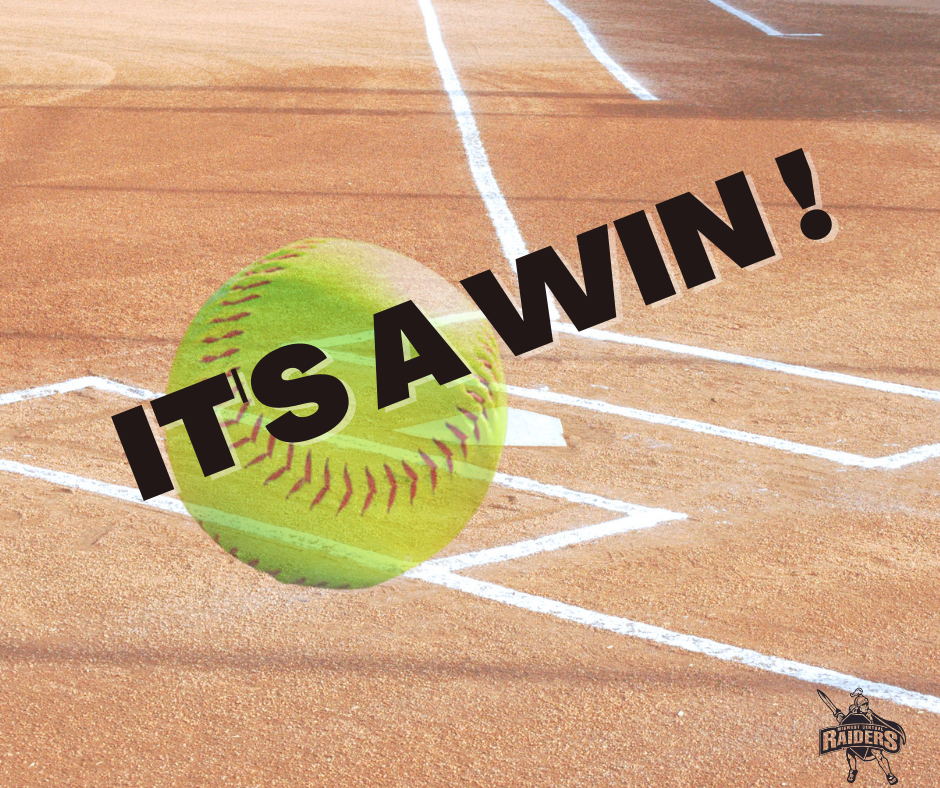 Michael Bahney signed with Olivet Nazarene today to participate in soccer for the Comets next year. Midwest Central is proud of Michael's accomplishments and wishes him the best of luck in his future.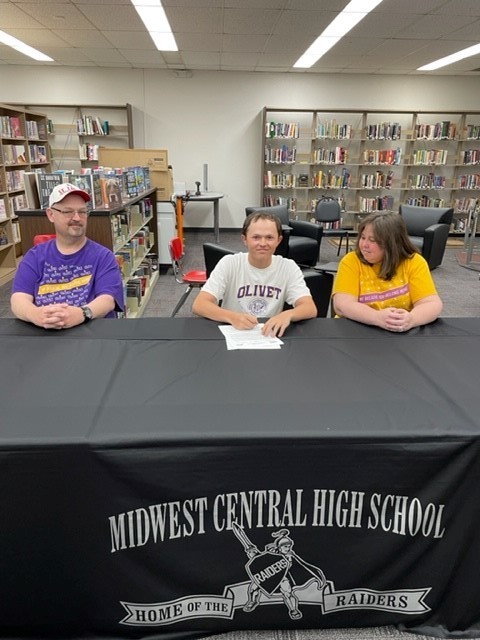 Kevin Chaney signed with St. Ambrose today to run cross country and track for the Bees next year. Midwest Central is proud of Kevin's accomplishments and wishes him the best of luck in his future.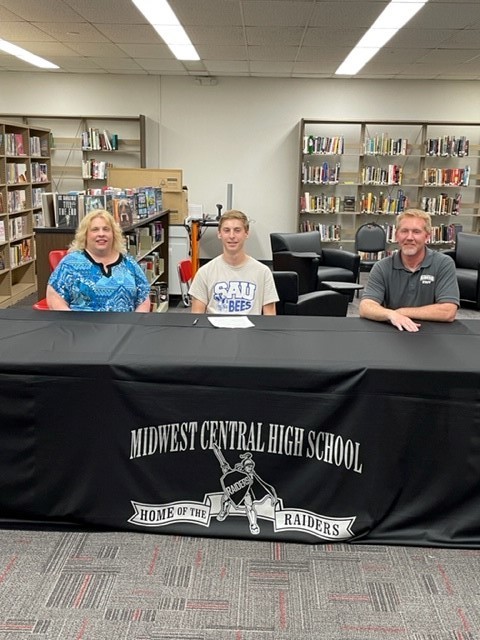 Nurse Brandy, Nurse Niki, and Nurse Denise... YOU ARE AMAZING! Thank you for taking such good care of all of us Raiders! You deserve recognition today and every day! Happy National School Nurse Day!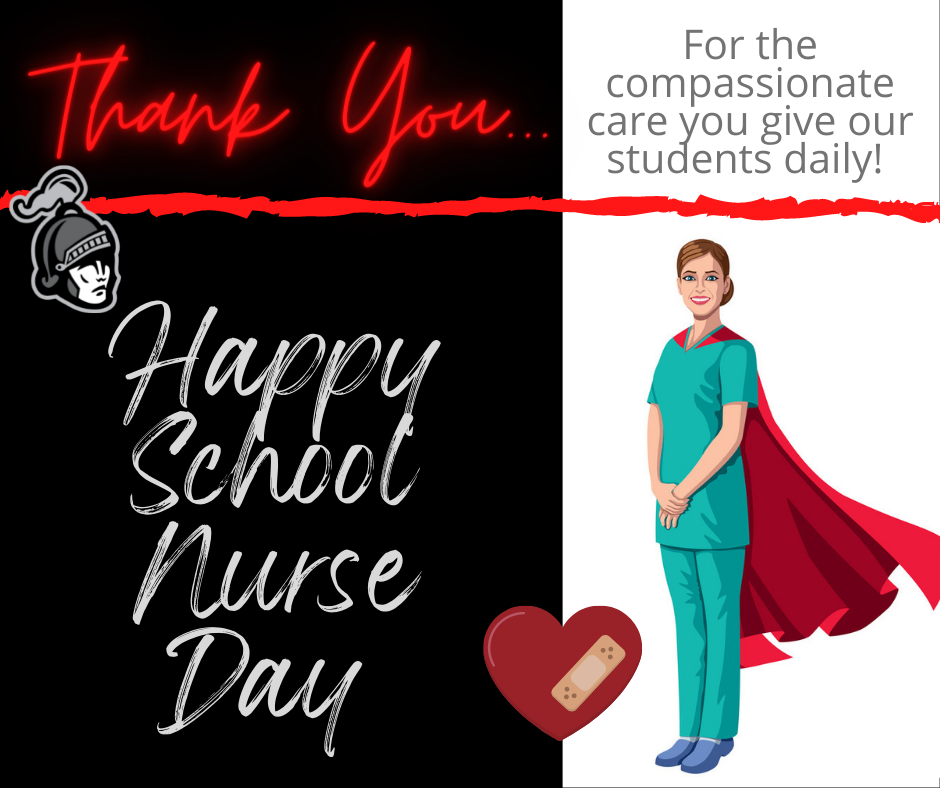 Courtney and the Lady Raiders travel to Bloomington today to compete in their IHSA Sectionals. Meet starts at 2:00. Good Luck Ladies!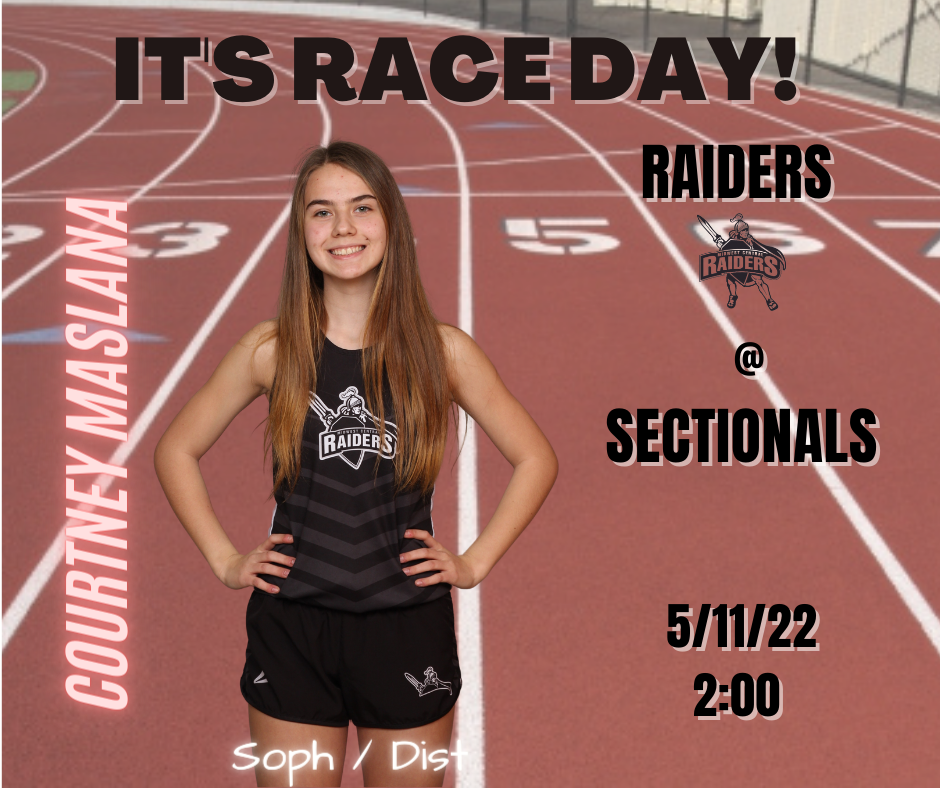 Mrs DeSutter's Physics students finished their Balloon Race Car project this week and had "Race Day!" All the students built a car that is only propelled by 2 or less - 9" inch standard balloons with no less than 3 wheels. All the cars went the minimum of 5 meters for a passing grade!!! This year's winners were: Fastest Car in 5 Meters: Tommy H. with 2.42 m/s Farthest Traveled: Tommy H. with 17.74 meters Best Named Car: Noah E. With Fredrick Albert Sir of Tasmania IX (AKA: F.A.S.T.) Best Looking Car (tie): Abigail L. with Bluebell and Reece N. With Captain's Plank Congrats!!!!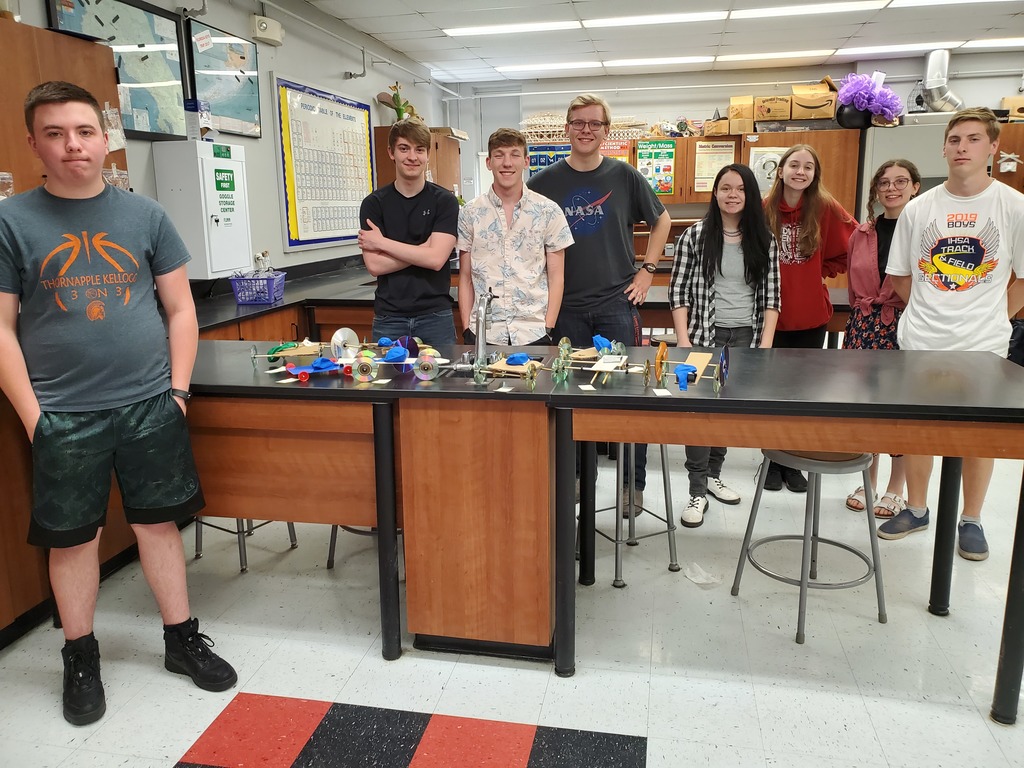 Kloe and the Lady Raiders travel to Beardstown today for a V game. First pitch is at 4:30. Good Luck Ladies!

TJ and the Raiders travel to PORTA today to play a JV game. Game starts at 4:30. Good Luck Raiders!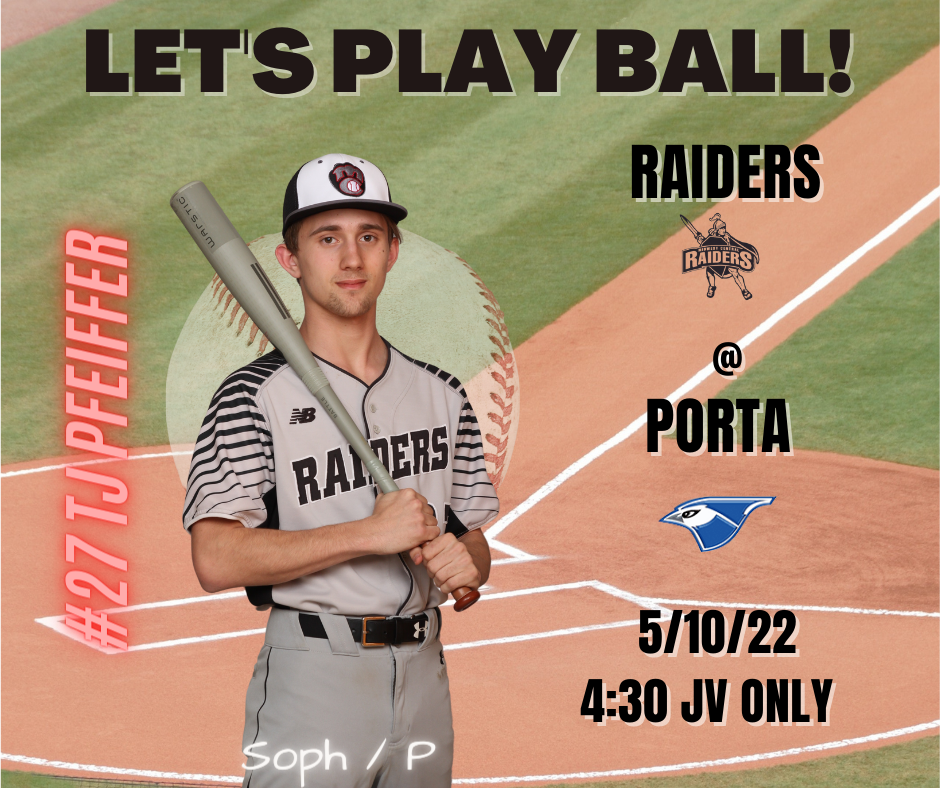 Emily and the Raiders compete today in Lewistown. Meet starts at 4:00. Good Luck Raiders!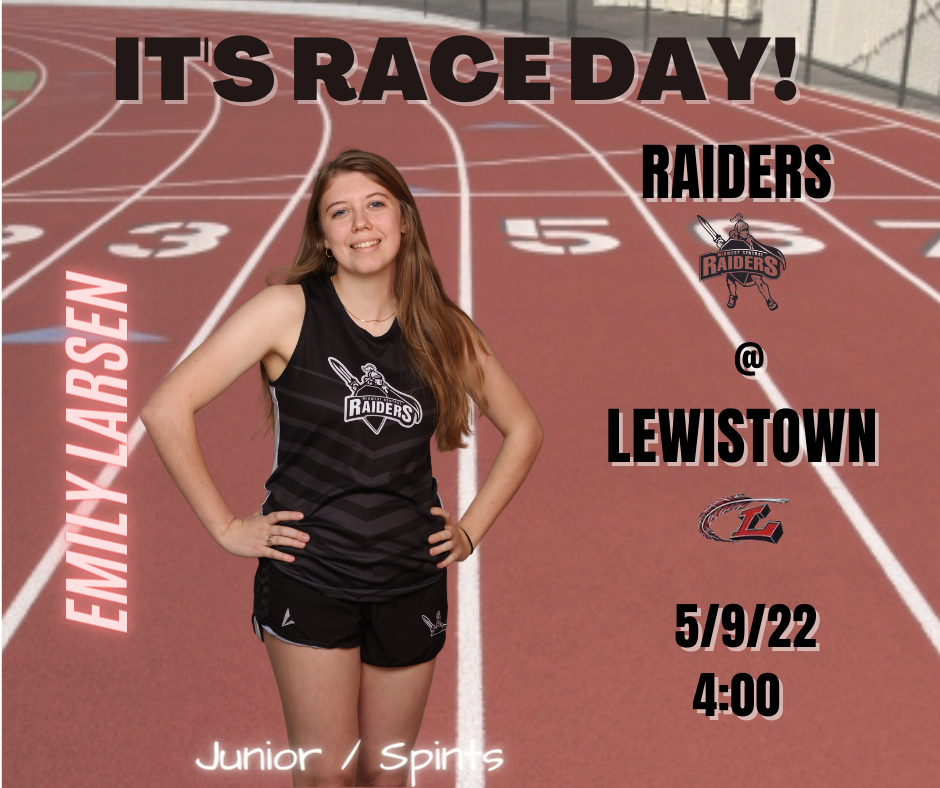 Kyle and the Raiders travel to Athens today for a V game. The first pitch will be at 4:30. Good Luck Raiders!