Hello Raiders, I wanted to make sure everyone is aware that Toboggan Road from 29 to Chapel Road will be closed starting Monday. Tazewell County has informed us that the closure will be short term. We've adjusted our bus routing to accommodate the closure. That is a highly traveled route for many people coming to work and school. I wanted to provide you some advance notice so that you could alter your travel routes in advance of Monday morning. Sincerely, Dr. Todd Hellrigel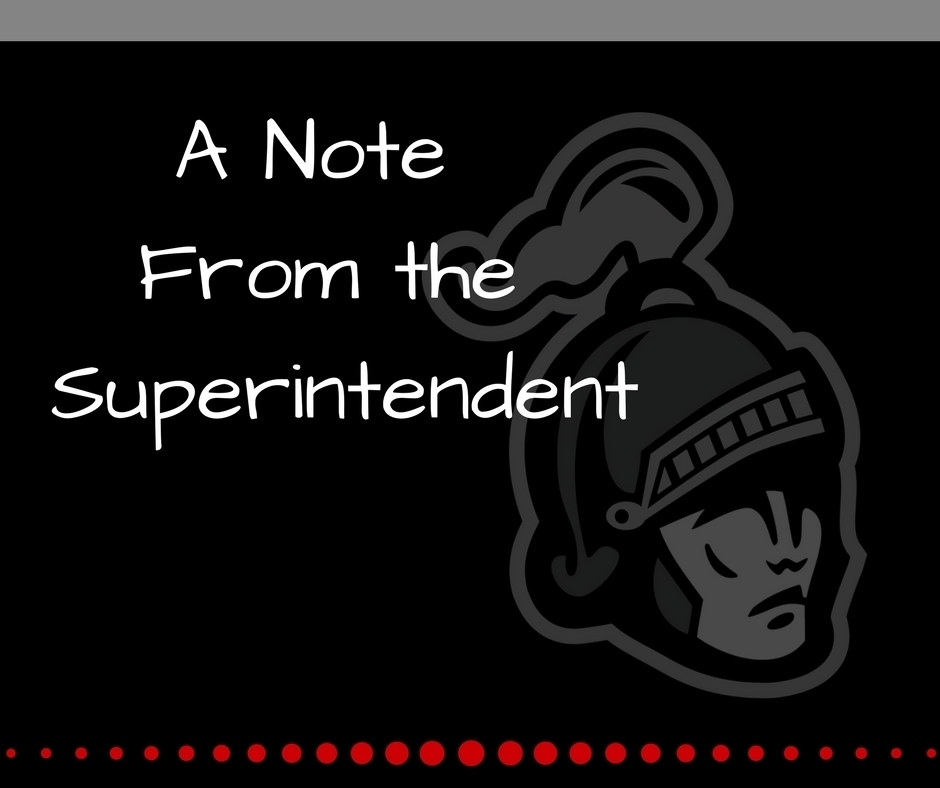 The JV softball game at Limestone scheduled for today has been cancelled.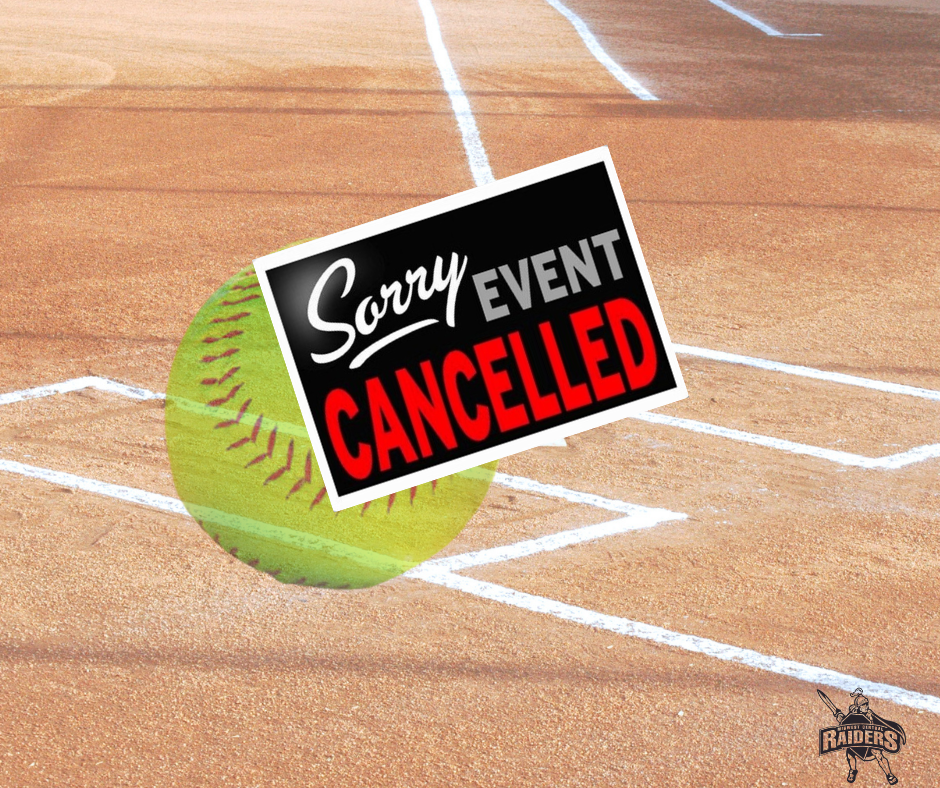 Midwest Central is lucky to have such kind, caring, and hard-working cafeteria staff! Thank you for all that you do every day! We appreciate you!! Happy National School Lunch Hero Day!!!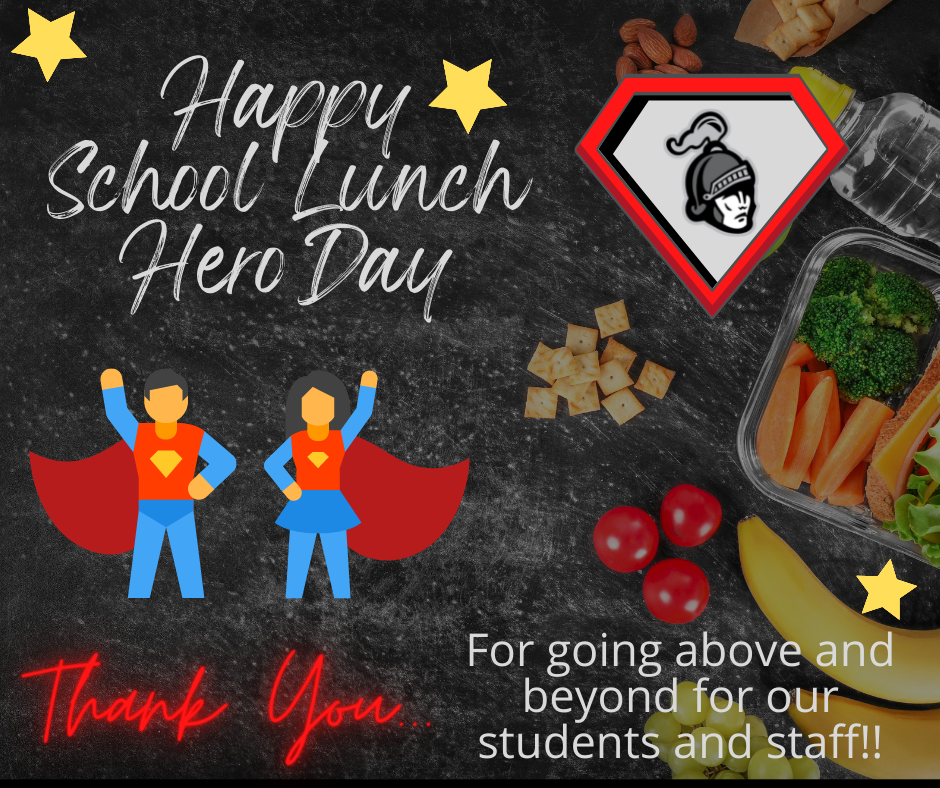 The HS softball game @ DeeMack scheduled for tonight has been canceled.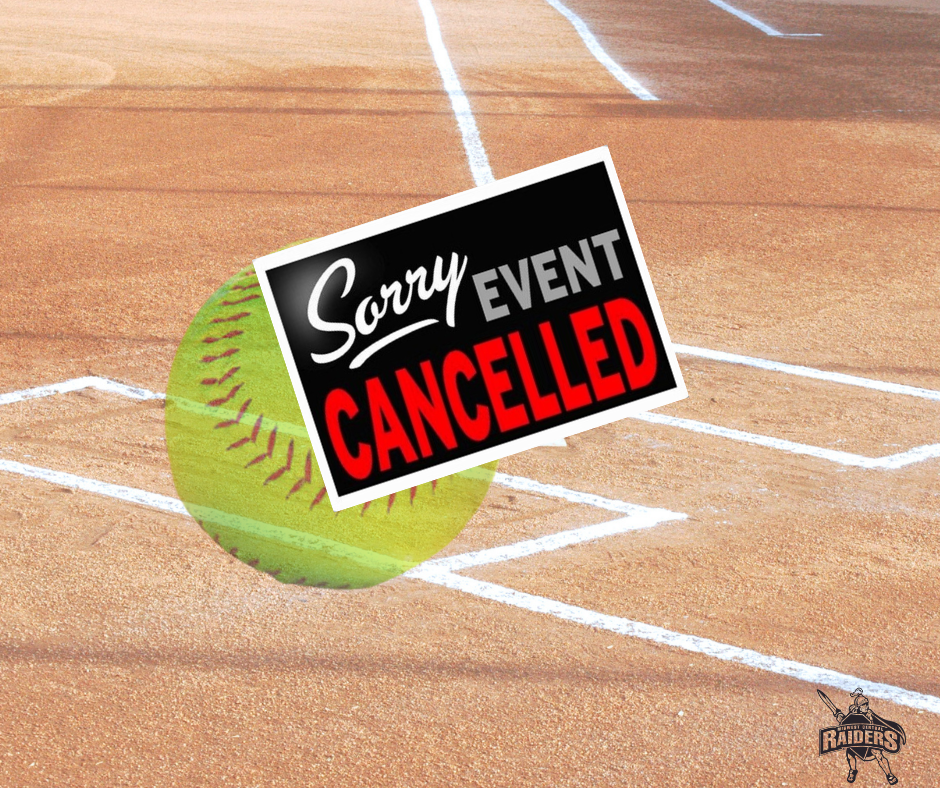 The HS baseball game vs DeeMack scheduled for tonight has been canceled.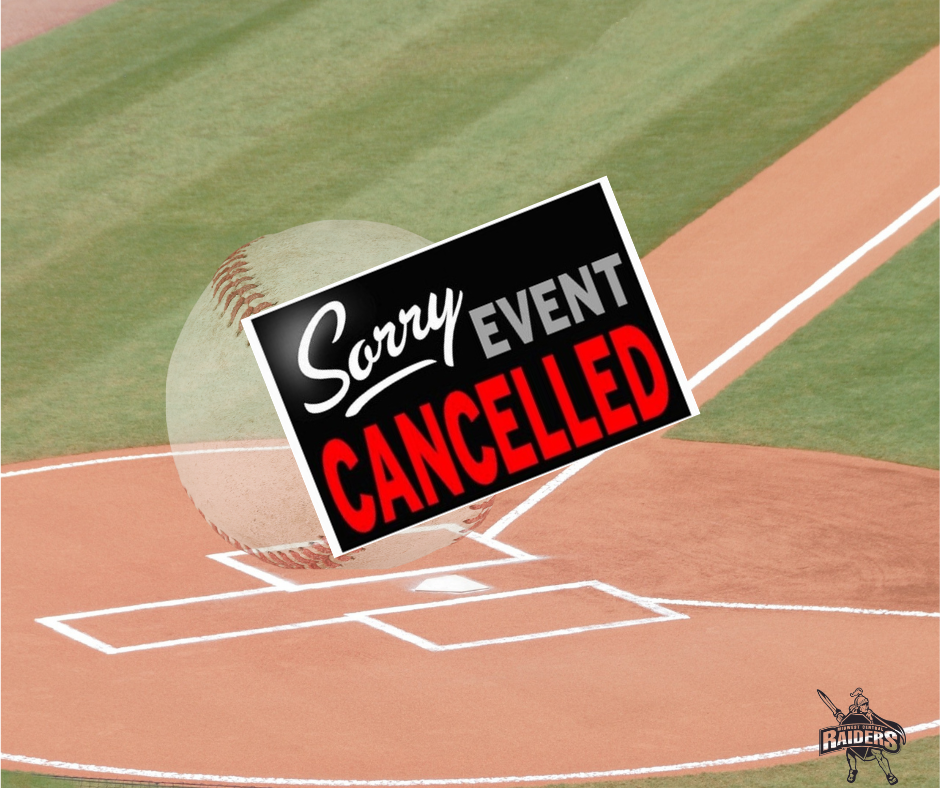 The HS track meet at Heyworth for tonight ahs been cancelled.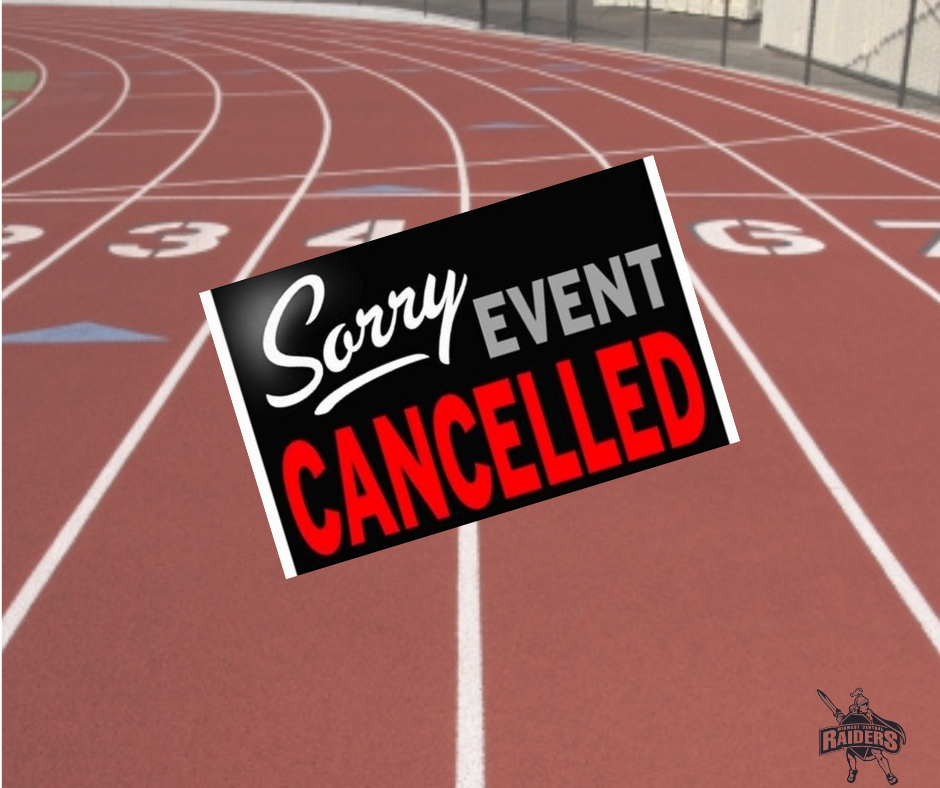 Olivia and the Lady Raiders travel to DeeMack today to play. V game starts at 4:30, JV will follow. Good Luck Ladies!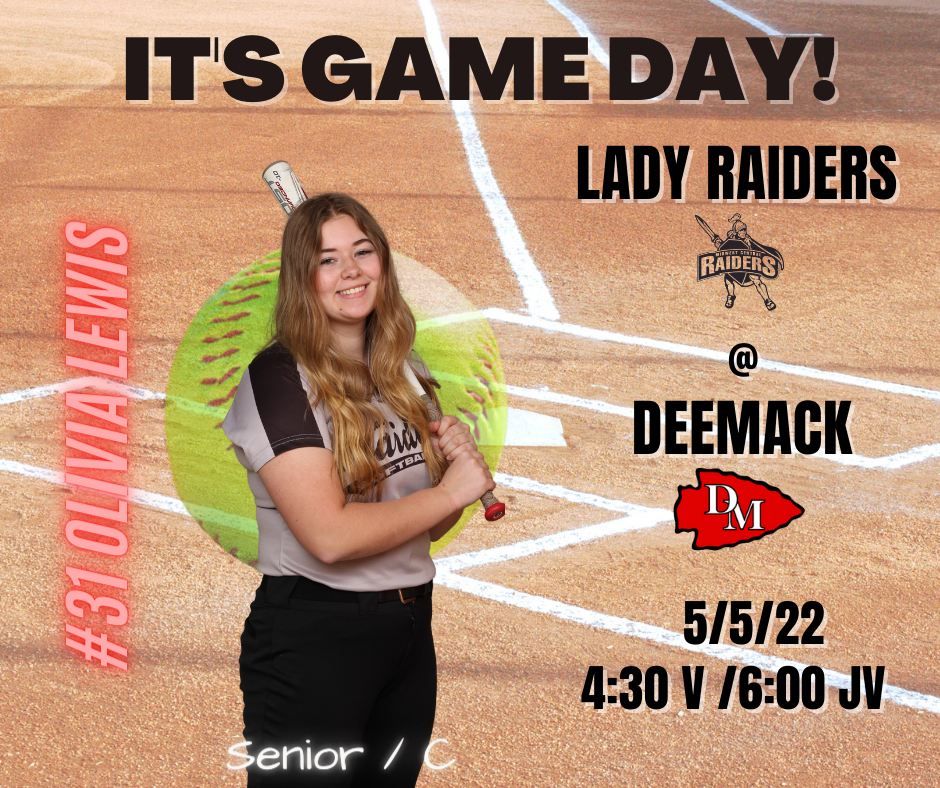 Aiden and the Raiders host DeeMack today for a V game that starts at 4:30. Good Luck Raiders!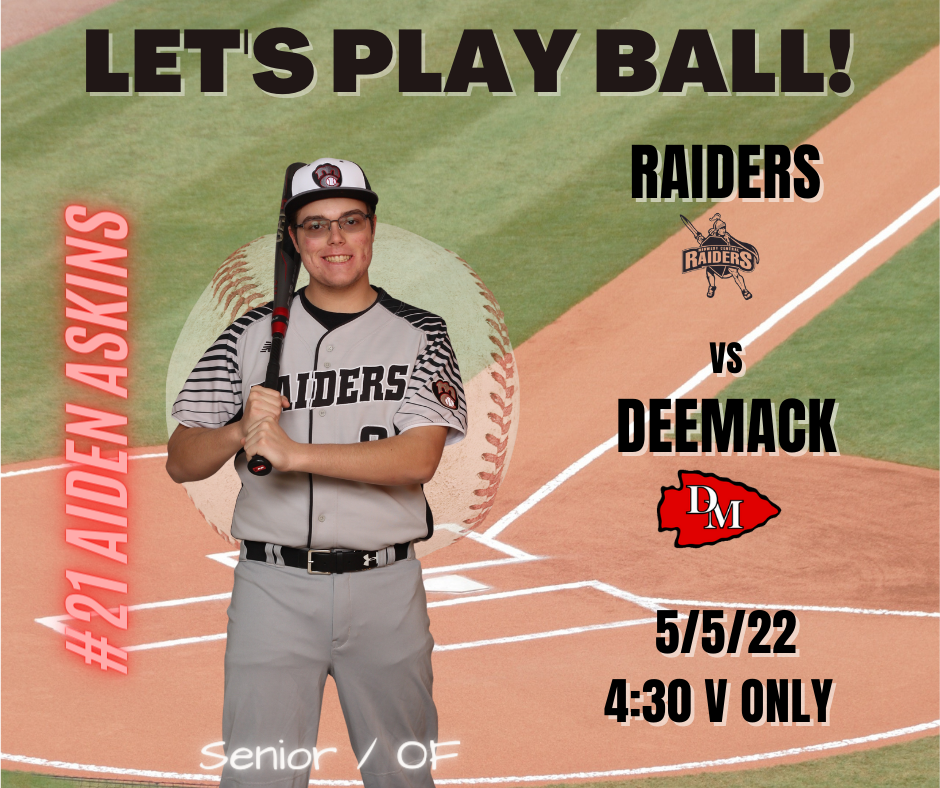 Seniors – Graduation practice will be Friday, May 20th at 8:00 AM sharp. This is mandatory for anyone planning to walk in graduation. Students must come dressed in their cap and gown, and all formal pictures will be taken that day (order envelopes on the office ledge). It is important to be here and on time!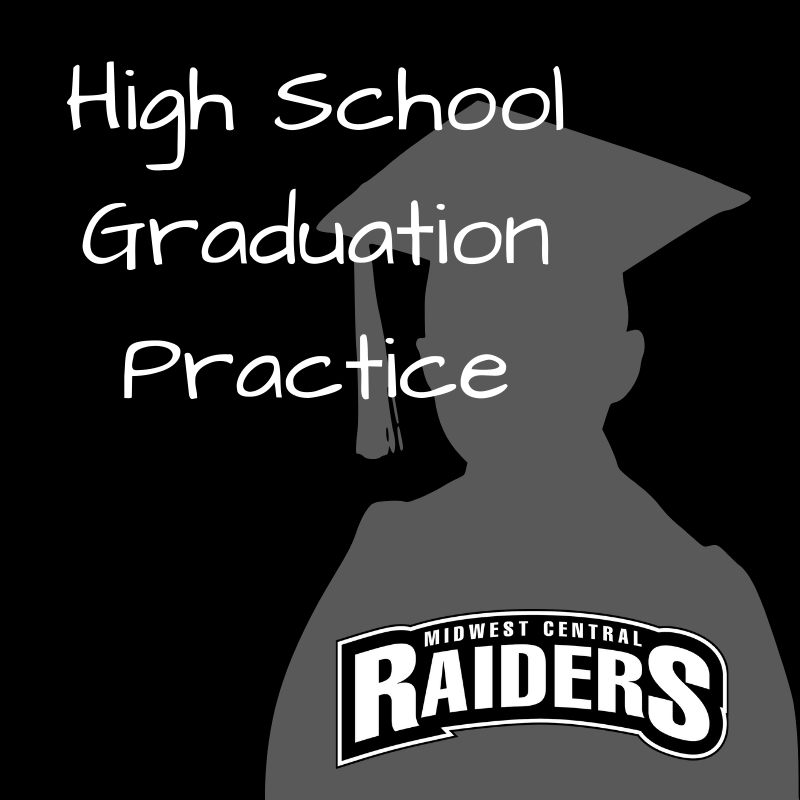 Riviain Talent Acquisition Team from Normal, IL came and talked to our juniors and seniors during their study hall. They went over resume building, interview skills, education programs, and employment opportunities at Rivian. We are proud of our Raiders for asking good and meaningful questions!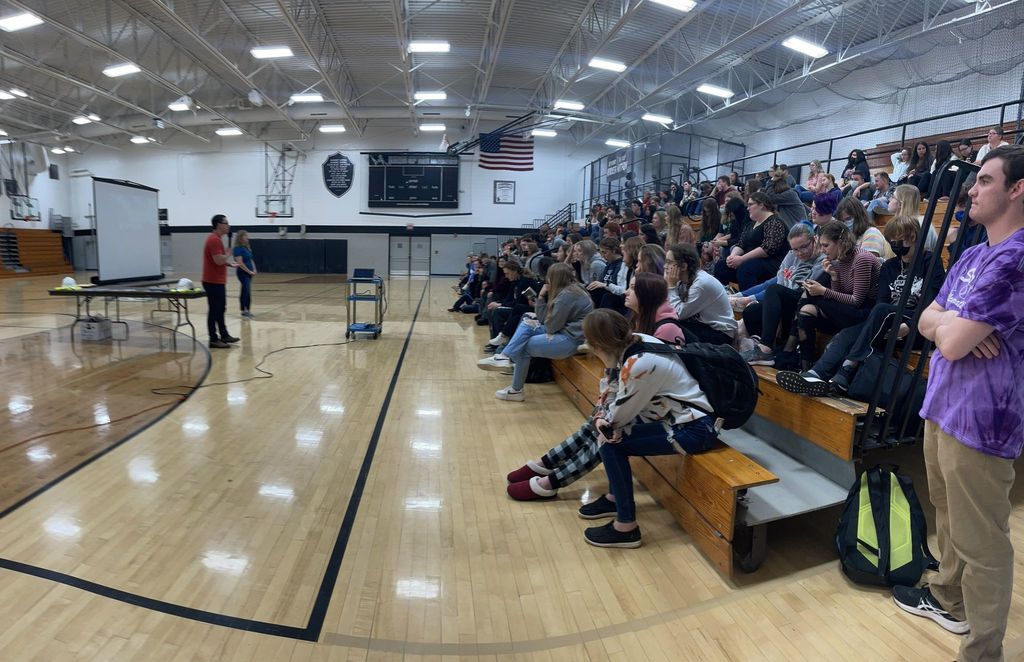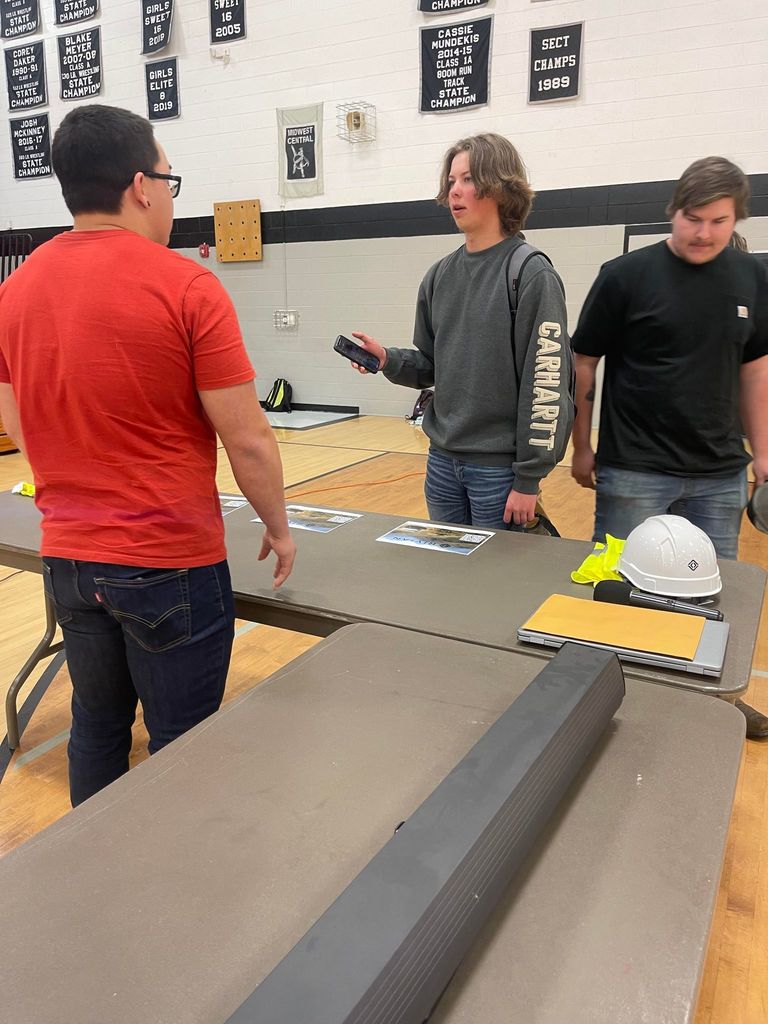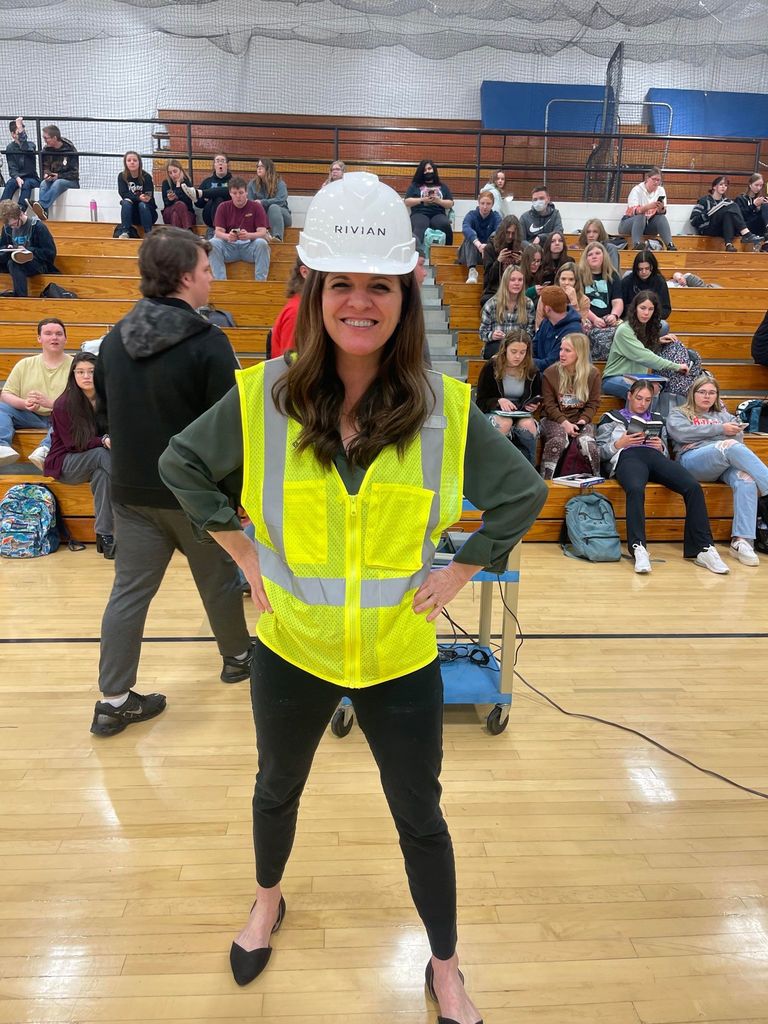 The JV game at DeeMack for tonight has been cancelled.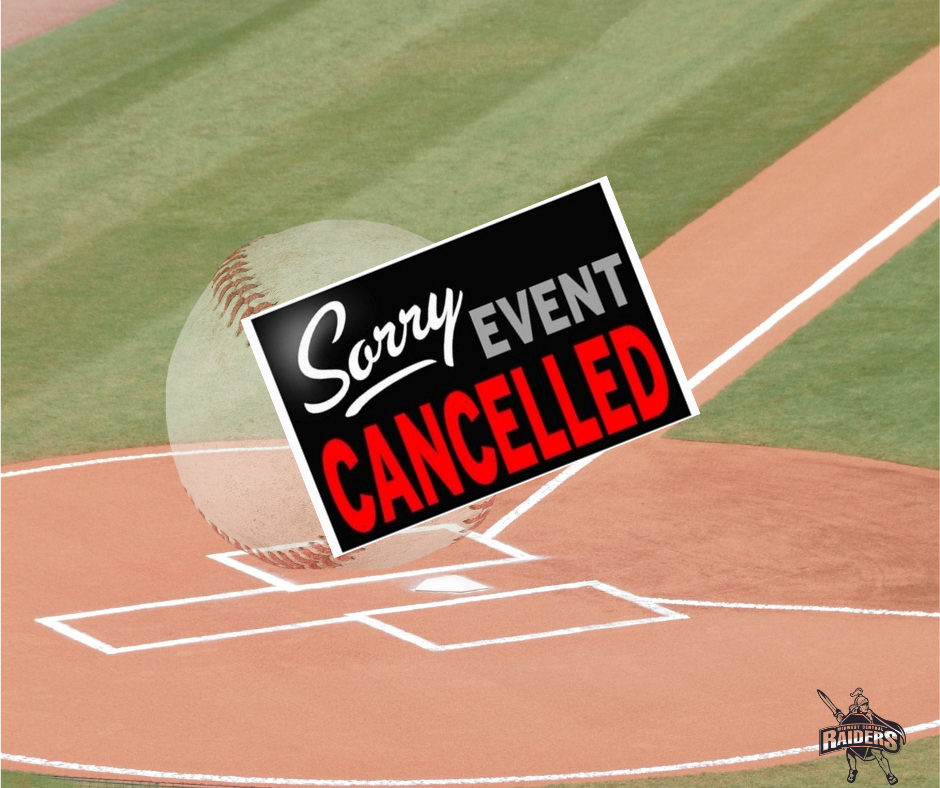 Today's game vs Havana has been cancelled. Senior Night will be held on Monday, May 9th.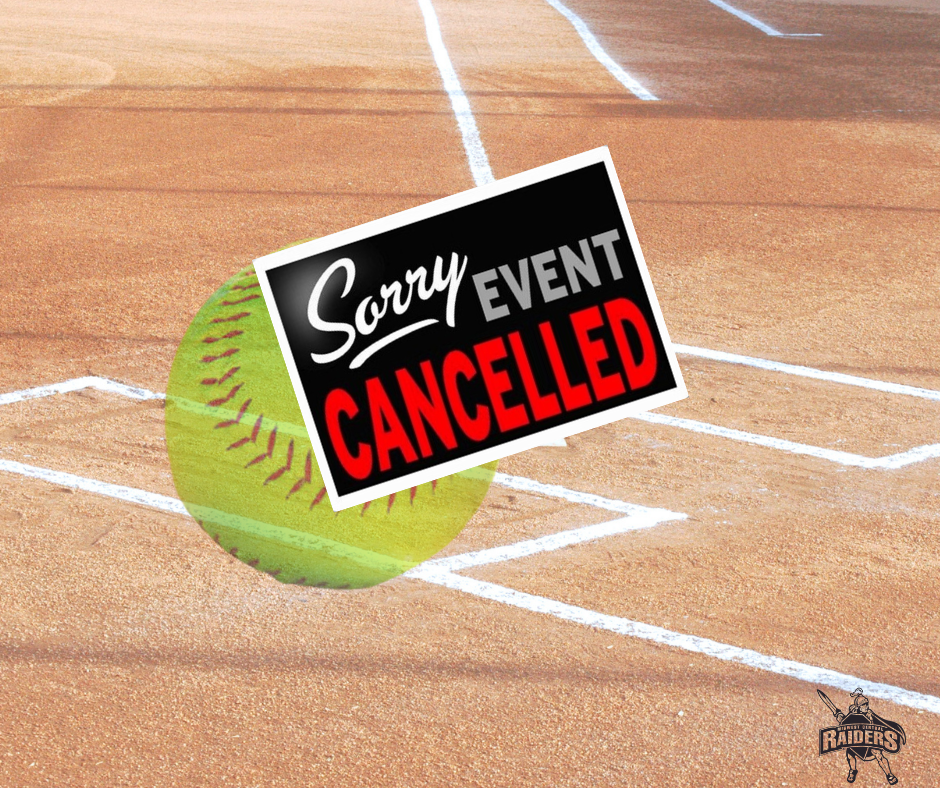 Join us in shouting from the rafters... THANK YOU! WE APPRECIATE YOU! Happy National Teacher Appreciation Day!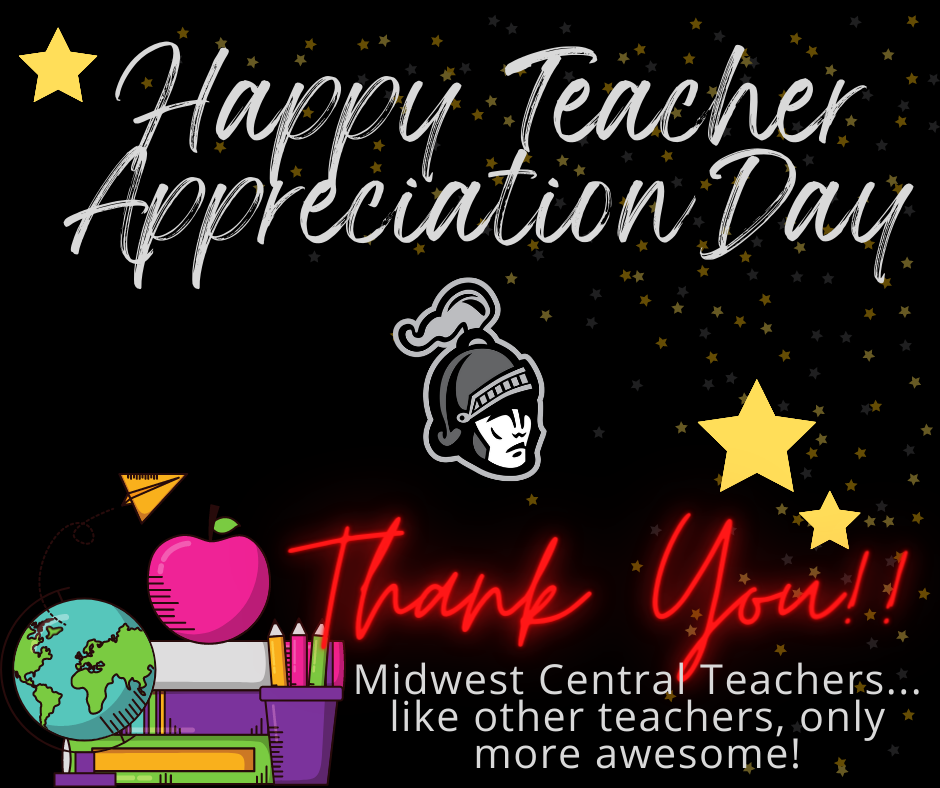 Come cheer Leah, Jaden, Olivia, Jenna, and Kloe to victory on their Senior Night today against Havana. V game starts at 4:30, JV will follow. It will also be our Ulcerative Colitis Night.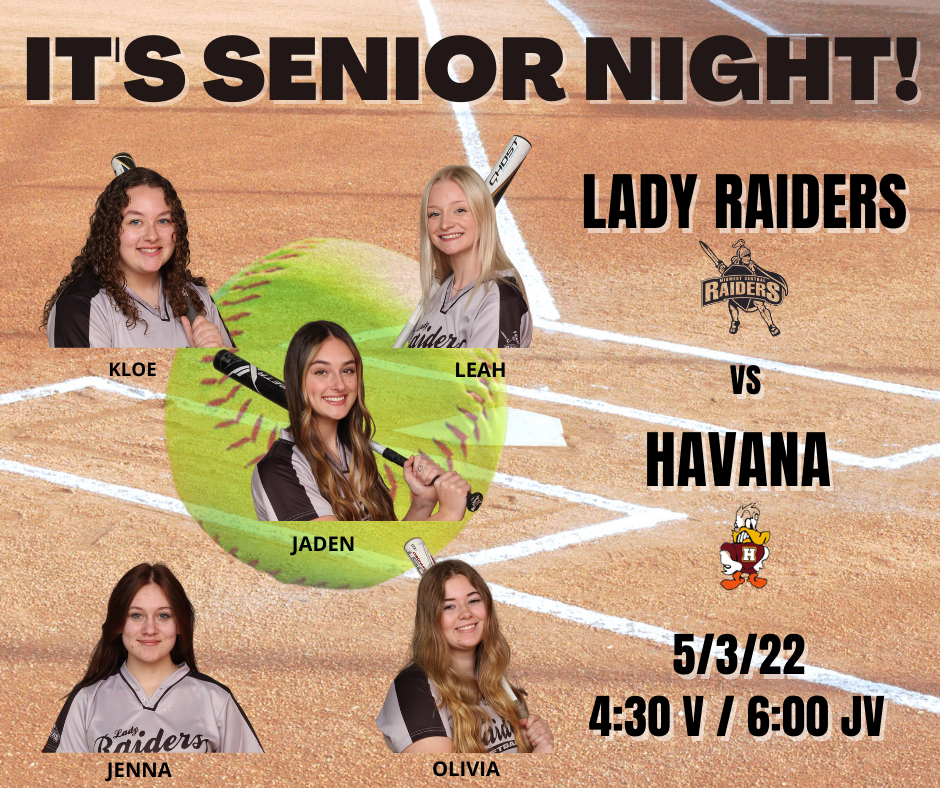 Michael and the Raiders play in DeeMack tonight for a JV game. First pitch is at 4:30. Good Luck Raiders!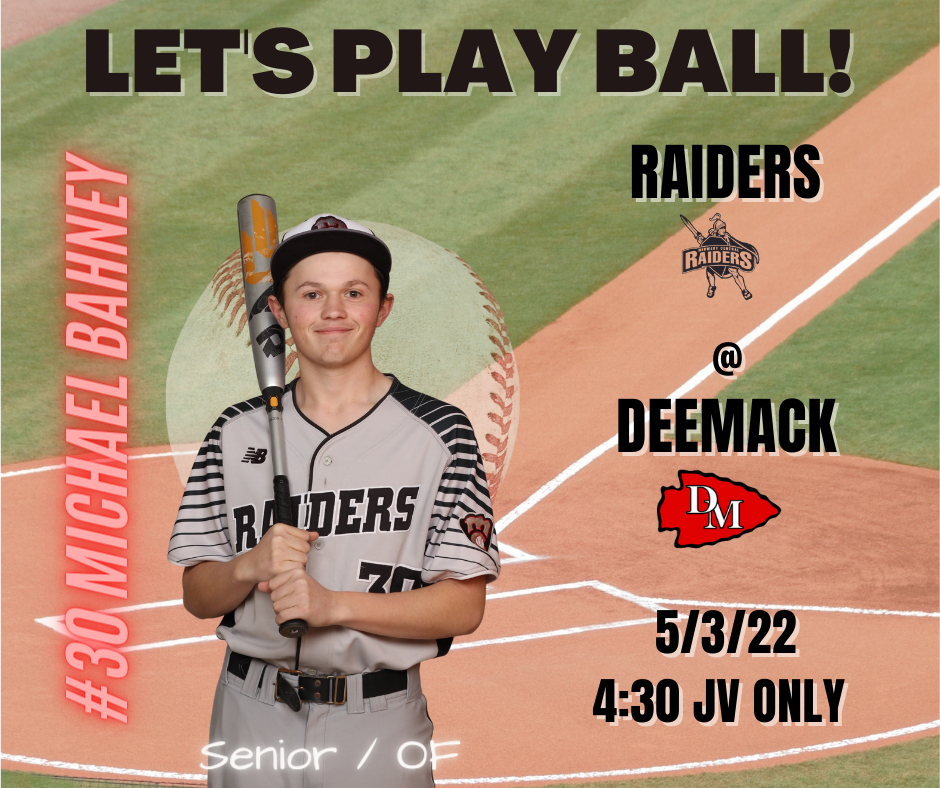 Join our team!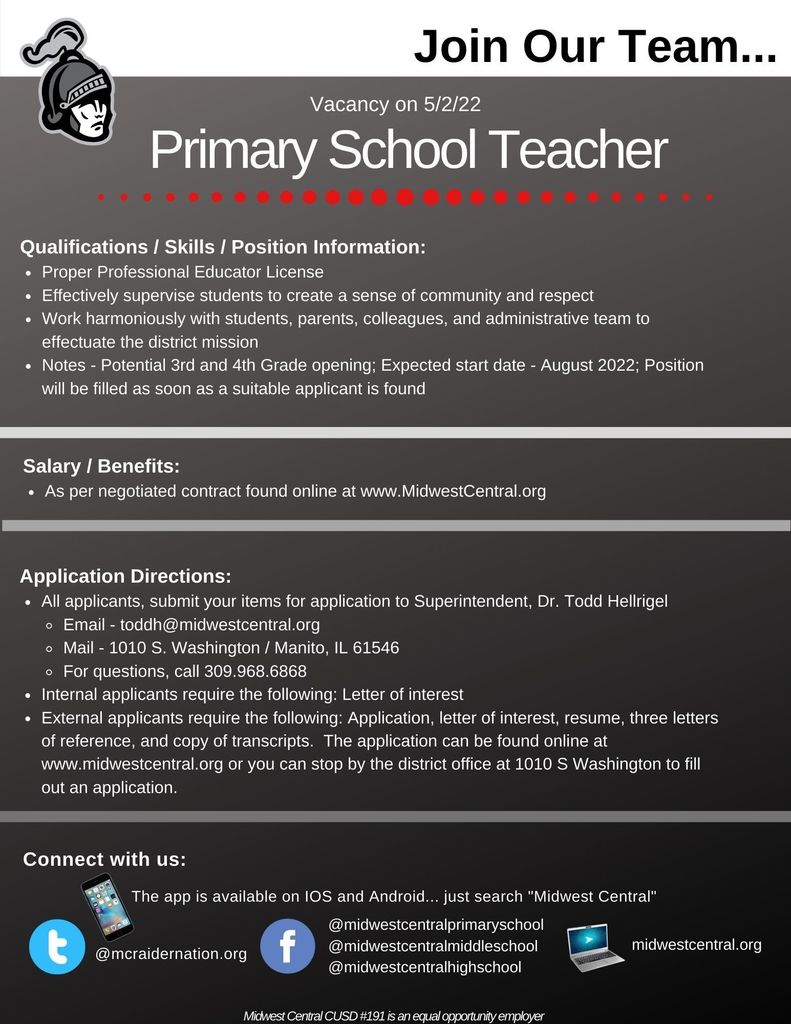 Join our team!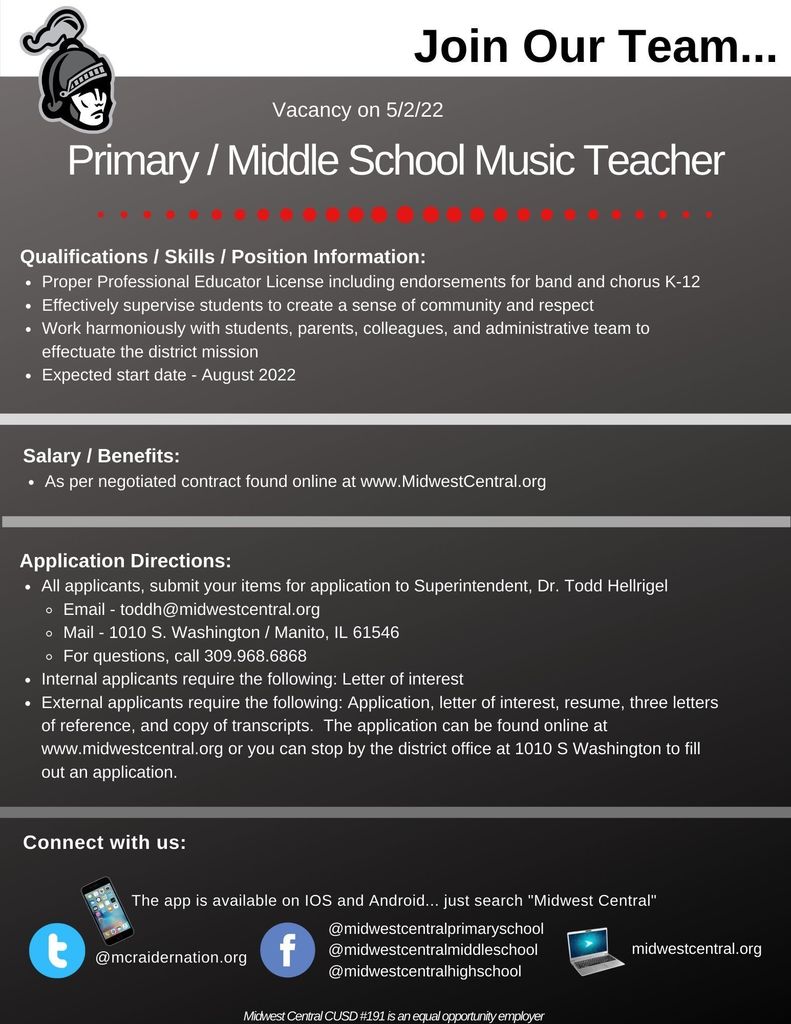 Join our team - summer school openings!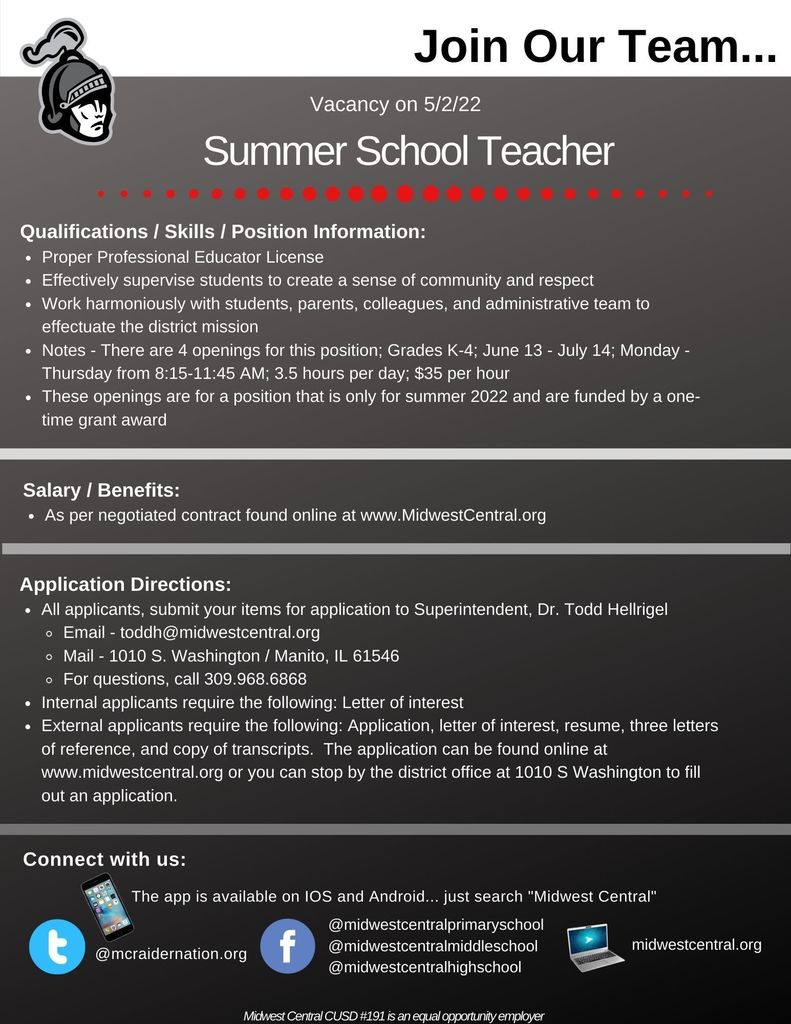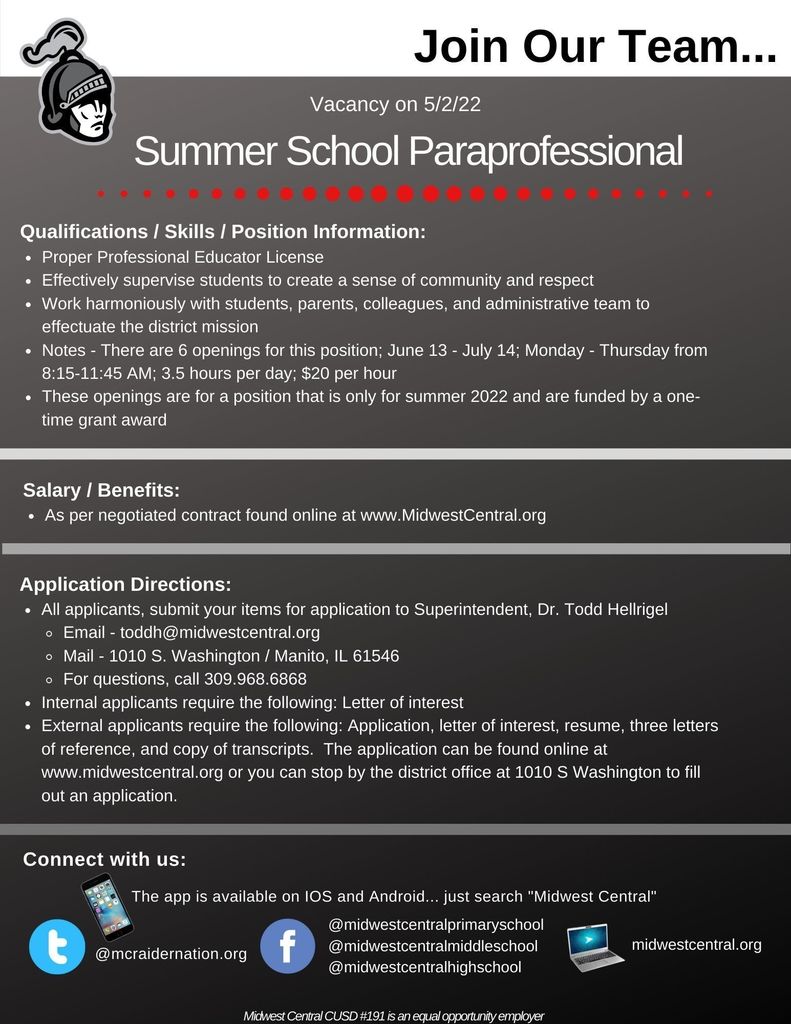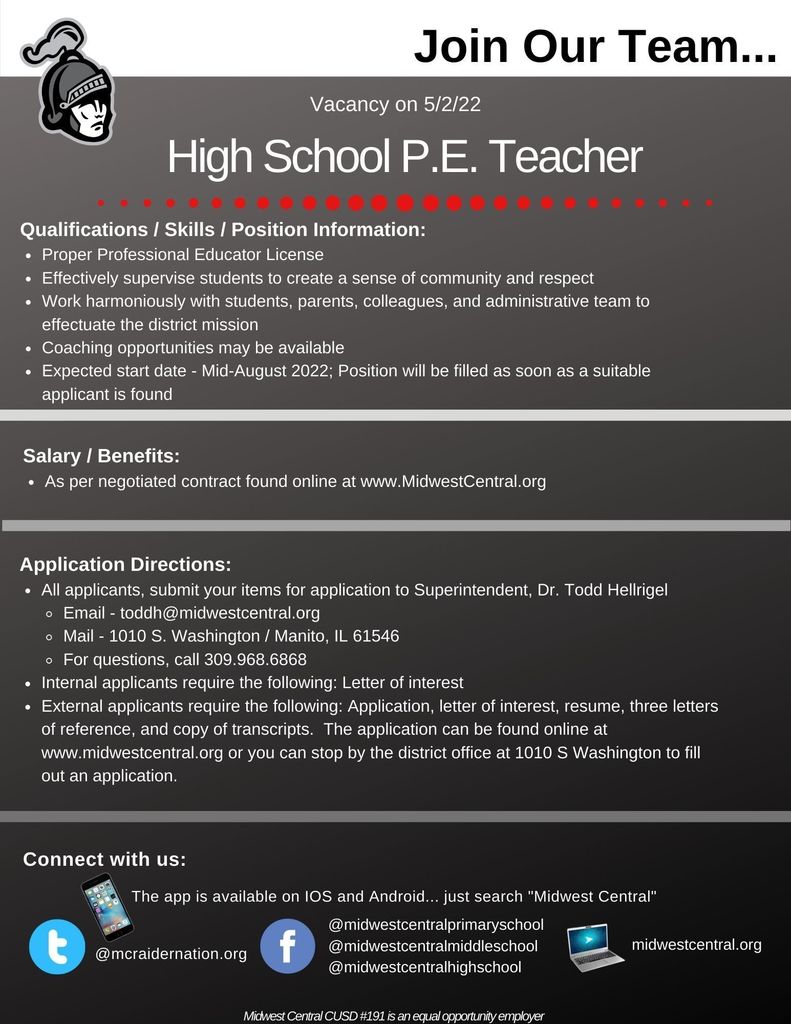 Join our team!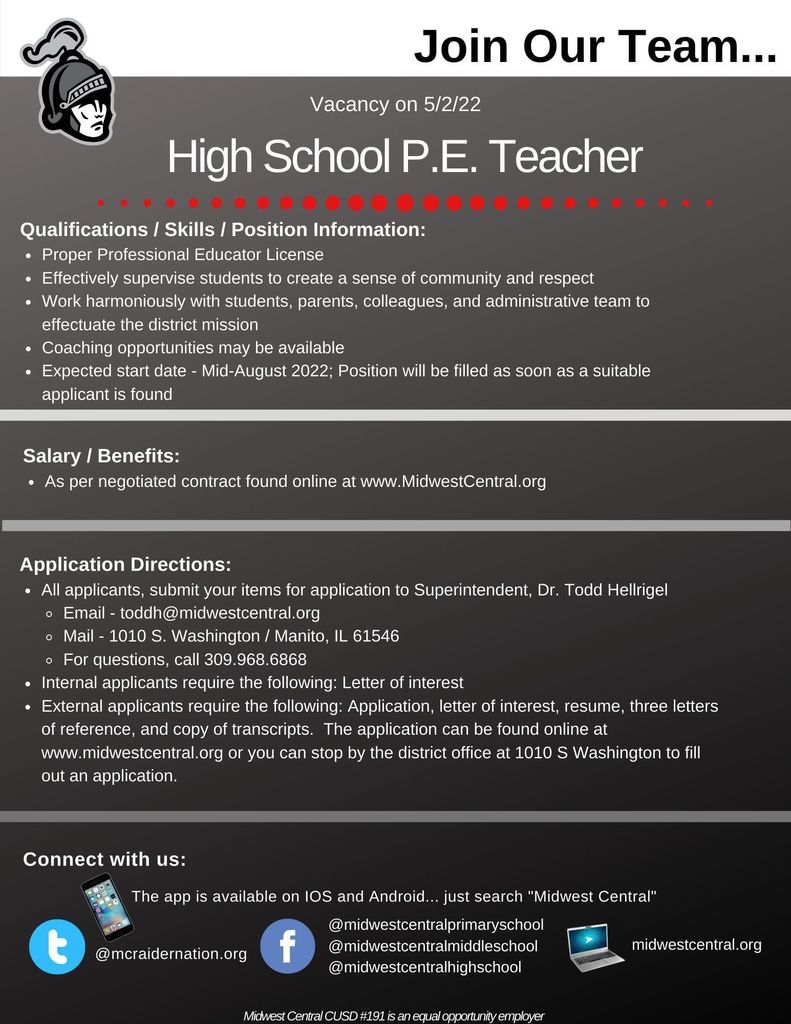 Yesterday was National Principal Appreciation Day… and Midwest Central is SO LUCKY to have some of the best administrators there are! They all care so much about our students and this school district, often doing things beyond the scope of their duties to try to make the students learning environment the very best it can be. Join in with us in thanking our amazing Principals for all their efforts. Ms. Timm, Ms. Taft, Ms. Fancher, Mr. Lazarz, and Mr. Norris… THANK YOU! Each of you are appreciated more than you know!